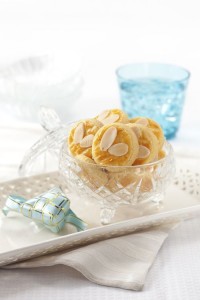 Ingredients:
180.00 g BLUE BAND Master Gold Margarine1 x 15 kg
20.00 g Butter
80.00 g Sugar
30.00 g PFANNI Puree Flocken 1 x 4 kg
2.00 pc Egg Yolk
250.00 g Medium Protein Flour
10.00 g Milk Powder
3.00 g Baking Powder
Some Almond
Preparation:
Mix Blue Band Gold Margarine with butter and sugar, reach the soft texture of mixture.
Add the egg yolk and stir for awhile.
Add all the ingredients and mix well.
Keep the mixture in a chiller for 30 minutes and then remove 3mm of layer, make it round, spread some yolk on it.
Cross cut it using a fork and then add 2 pieces of sliced almond.
Bake it in an oven, set the temperature on 180°C for 12-15 minutes.