Ingredients: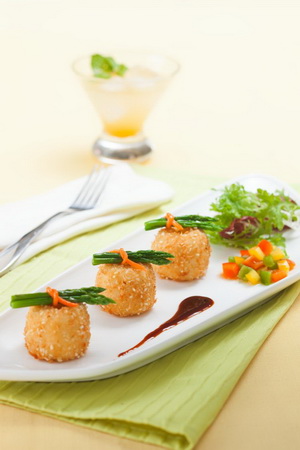 Sesame Potato Croquette
60 g Knorr Mashed Potato 1 x 2 kg
180 ml Milk, UHT (1 liter packs)
20 ml Cooking cream
2 g Knorr Chicken Seasoning Powder
Pepper powder
2 g Salt
25 g Onion
15 ml Olive oil
10 g Wheat flour
3 g Sesame seeds
60 g Bread flour
20 g Egg
Mix capsicum pickled
4 g Red pepper
4 g Green pepper
4 g Yellow pepper
30 ml Buavita Orange Mandarin
Garnish
12 g Asparagus
12 g Mixed lettuce
5 g Cuka balsamic
500 g Oil
Preparation:
Boil milk, and put in Knorr Mashed Potato, stir well. Add cooking cream, pepper, Knorr Chicken Powder and flour, Stir well. while heat up olive oil and stir fry bombay onion until the smell arise, add to the mashed potato batch. Mix well, and put into beaten eggs and bolster to breadcrumbs and sesame seeds. Heat up cooking oil, and fry croquette until turns gold. pick up and set aside.
For mix capsicum pickled : mix all ingredients the put into cooler.
Serve croquette and baby asparagus, put mix baby lettuce and mix capsicum pickled as ornament, and don't forget the balsamic vinegar.