Ingredients: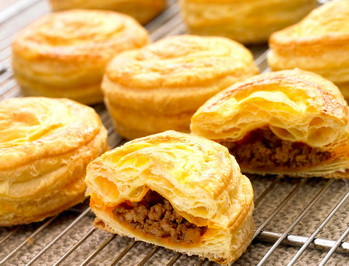 Skin:
1,000 g High protein flour
50 g Sugar
20 g Salt
150 g Blue Band Master Cake Margarine 1 x 15 kg
500 g Ice water
500 g Blue Band Master Pastry Fat 1 x 15 kg
Filling:
20 g Garlic
150 g Onion
200 g Ground beef
50 g Green pepper
70 g Knorr Barbeque Sauce 6 x 1 kg
2 g Bay leaf
100 g Tomato
80 g Ketchup
30 g Medium Protein flour
8 g Knorr Beef Seasoning Powder 6 x 1 kg
10 g Salt
25 g Oregano
Preparation:
For Skin:
Stir all the dry ingredients, then enter the water and BLUE BAND Cake Margarine, stirring until smooth half.
Round and the rest about 10 minutes.
Cut crosswise, place the pastry fat in the middle (opening envelope) rool lengthwise, folding with a single fold, rotate 90 ° C, then roll back to a single crease and rest about 20 minutes.
Do it like this way, a 5x to 6x single crease. Rest every 2x crease for 20 minutes.
Roll less than 2.5 mm thick, content accor ding to taste and polish with salted eggs, bake in the oven.
To Fill:
Heat the margarine and saute onion until fragrant,
put cooked meat and insert all the ingredients except the flour, before being sprinkled with flour mix.